Dear customers and partners,
For the second time in five years, Le Bonhomme à lunettes is among the top choices in an eyewear satisfaction survey organized by Éditions Protégez-Vous. The most recent, published in the a new magazine called Verdict Santé, surveyed over 3,300 people. We're obviously honoured to have come out on top. It's an honour that reflects the excellent work of our entire team. With this in mind, we've started displaying the official Protégez-Vous seal on our website and on some of our communications.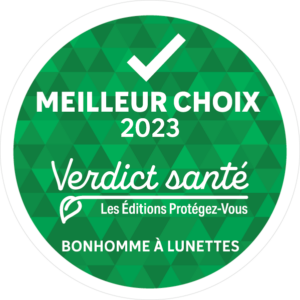 Why the Verdict Santé des Éditions Protégez-Vous seal
We made this decision primarily because we hold Protégez-Vous in high esteem. Thanks to its editorial rigor and independence, the company has carved out a special place for itself in the Québec media landscape. We also made that decision because it highlights two core elements of your business model that were appreciated by the surveyed customers: value for money and quality of service.
More than 15 years of hard work
Depuis nos débuts en 2007, nous avons opté pour une approche basée sur l'accessibilité ainsi que sur un excellent service à la clientèle. Comme nous ne faisions aucune publicité, je disais à la blague que nous étions « condamnés » à offrir un service à la clientèle de premier plan pour que le bouche-à-oreille fasse son travail. C'est ainsi que pendant plus d'une décennie, nous avons travaillé fort, lunettes par lunettes, point de service par point de service, pour gagner la confiance de nos clients. C'est grâce à cette approche, mais aussi grâce à une exceptional media coverage, that we are now known and respected by the general public. Today, we're a team of over 40 people working to continue our original mission: to make buying eyewear accessible while having fun.
The Verdict Santé des Éditions Protégez-Vous seal represents not only the validation of our hard work, but also the celebration of an outstanding team. We're extremely proud and we'll be doing our very best to live up to it in the months and years ahead.
Thanks to all the organizations that have placed their trust in us and remained our loyal partners over the years.
Philippe Rochette